"It took me three years to run 60 meters."  – Hannah Cain.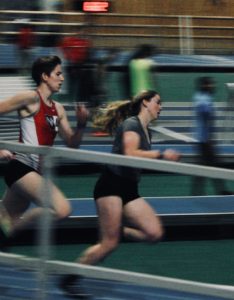 To say that Hannah is the greatest sprinter I have ever coached would be a worldly understatement.  And on a G20 team of endurance runners, she is our lone-wolf sprinter, one might say a misfit – and ya, she'd be OK with that.
Hannah left Challis three years ago on a D-II scholarship for a school in San Diego.  She'd be the first to say she has no regrets about the adventure, but this coach will be the first to say they messed her up.  Physiologically and psychologically.  Running was not fun anymore.  See Rule #1.
We had a heart to heart last spring – – she wanted to run again.  To race and find the passion, but wanted to do it on her own now.  Away from the pressures of collegiate athletics.  Her move back to Boise and her request to me to rekindle the very close coach-athlete relationship we had before, well it melted me.
So we've been "quietly" training since then.  Carefully.  Aggressively. But most important:  Enjoyably.
The Dec 9th indoor meet in Nampa, Idaho, at the Jackson's Open, was a big step.  To be back in the blocks against a very good field of collegiate athletes.  She wore some simple black spandex, a plain gray shirt top – but more importantly, those magical hard plastic soled shoes which are the symbol of a sprinter, the spikes.  – she was quietly mixed into the field of outfitted collegiate athletes as an unknown.
Unknown, that is, until the first starting gun went off in the 60m prelims, and crowd got to see the powerhouse, with hair flowing, win her heat in just over 8 seconds and make finals seated #3. Who was this?  Who is Gauge 20 Running as listed on her "affiliate team"?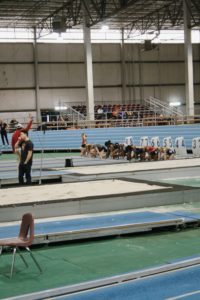 Finals dipped her time to now 7.87 – yes, that's fast.  And the 200m in 26.36 – yes, that's fast, too.
She's not one to say much and not one to post much on social media, but I know she had a big grin on her face when she walked out of the arena with her brother.  And she knows this coach had a big grin and a tear in his eye half a world away in Africa.
BOOM – yes, Hannah, welcome home.