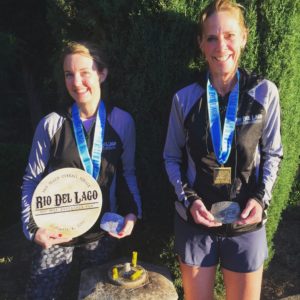 Folsom / Auburn, CA:  Must-have WS100 quals for Natalee and Lyn made them go out at Rio in a conservative manner up through No Hands (Mile 48).  Even so, both were in the Top 10.  A rather cool and wet day took extra energy to get through the first half, including some big downpours.  We let Natalee loose once she had the qual clenched, and she shifted gears and tore up the second half of the race, finishing 3rd in 20:45, and just needed another mile or two and would have caught second.
Lyn was holding Top-10 spot through Rattlesnake Bar (Mile 85ish) then got a little chewed up in the Meat Grinder section in the night, but regrouped with her pacer, and held on to 14th place out of nearly 120 female starters, finishing in 25:09.
Quals now good for the WS lottery and time for a little season break before gearing up for 2018.