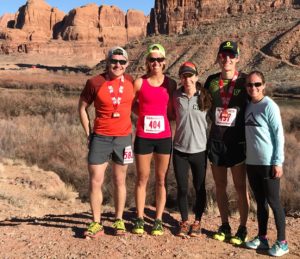 G20 put four on the starting lines at the highly competitive Moab Red Hot 55K and 33K down in Utah on Saturday:  Cody, Drew and Emily in the 55K and Audrey making her trail racing debut in the 33K.  The races are run up and over the mountains on technical trails and jeep roads around the Colorado River.  Brittany went down as support and team cheerleader.
Finishing tops out of the group was Emily, who took 2nd (5:15) in the women's 55K race, behind Western States 100 winner, Cat Bradley.  Em, in just her second ultra, said she got caught by the 3rd place runner with a mile to go and got into an old fashioned collegiate duel to the finish to hold onto to the silver medal.
G20's Coach Cody took 4th in the men's 55K (4:10) and in his own words: "Holy smokes those boys went for it today! 3rd time racing @grassrootseventsMoab Red Hot and for the 3rd time the last 6 miles ate me up and required some digging. Nothing but a whole lot of sunshine with some slick rock with a hot pace. Very satisfied with a 4th place finish to start the season off!"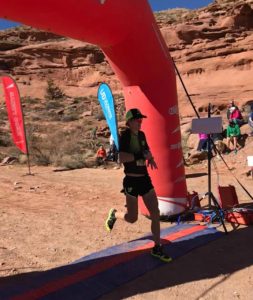 100 mile specialist, Drew, who has run the course before, has been busting butt on his speed in the early season and set a PR at ~5:50, even after being sick the week leading up to the race.  Said Drew, "Nutrition and hydration were spot on………. No injuries and I feel good overall about how it went."
But the biggest breakout was for our post collegiate athlete, Audrey, who opened up her trail racing career in the tough 33K against the most stacked field there.  Some late elite entries made the women's 33K the watched race of the day.  Audrey fought to stay with the top-10 pack and finished 8th in a time of ~2:55.